Payroll so powerful
it can run itself
Pay employees and contractors, anywhere in the world, in seconds. File your taxes, automatically.
G2 Crowd #1 Rated
Core HR and IT
PC Mag Editor's Choice
2019
4.9 star rating on
Software Advice
4.9 star rating on
G2 Crowd
4.9 star rating on
Capterra
Run payroll in seconds.
No math or data entry required.
Rippling automatically syncs all your employee data and HR systems with payroll,
so you don't have to add new hires, enter hours, or adjust deductions.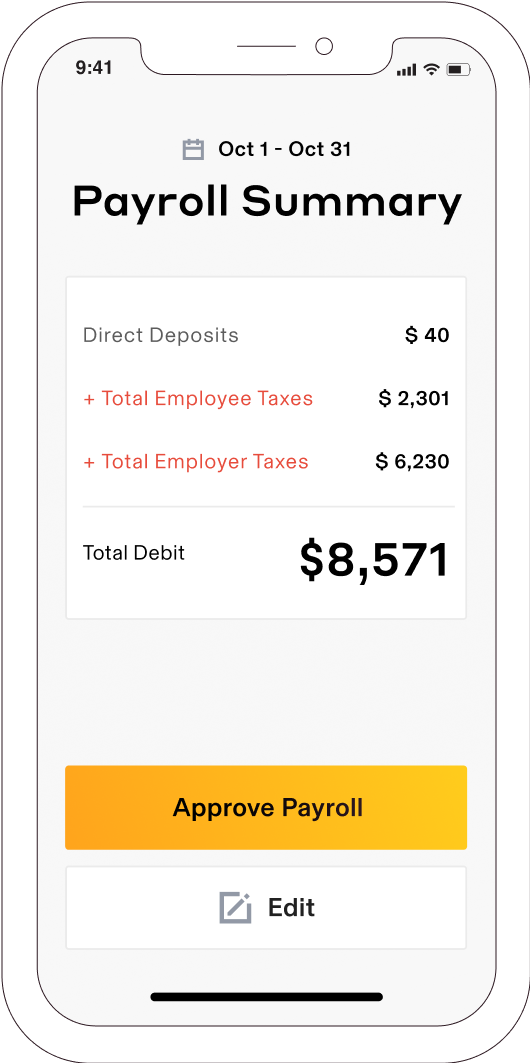 Taxes
Automatic tax filing
Rippling automatically calculates your payroll taxes, then files them with the right federal, state, and local agencies.
Compliance
Automatic compliance
Rippling automates all your work required to stay compliant. Workers comp, new-hire reporting, and more.
Global Payroll
Pay people globally,
process locally
With Rippling, you can pay employees and contractors anywhere, from your company's HQ to Timbuktu.
Payrun Comparison
See what changed and why, pay run to pay run
Quickly compare your current pay run against a previous one, so you can see how variables like promotions and PTO affect employee pay stubs.
Time Tracking
Track time and PTO.
Hours sync with payroll.
Set a PTO policy that fits the needs of your team, then review and approve their vacation requests with a click. Paid time off and hourly work in your time tracking system automatically sync with payroll, too.
Powerful Reporting
Create and share any report imaginable
Run powerful pre-built reports—like compensation and payroll journals reports—or create custom reports and graphs using any employee attribute in Rippling.
Payroll Integrations
Sync with everything, from Quickbooks to NetSuite
Rippling integrates with every app—from your favorite time tracking to accounting software—and automatically keeps your payroll up to date with the latest data.
Payroll built for 1 to 1,000 employees
Average time to run payroll in Rippling:
90 seconds
Pay anyone, anywhere
Federal, state, local tax filing
W2, W4, 1099, new hire filing
Workers comp
Direct deposit or check
Time & accounting integrations
Mobile app
Testimonials
What others say
"Rippling makes it unbelievably easy to manage your team's payroll, benefits, computers, and apps."
"Rippling makes onboarding new employees so easy and seamless! What used to take me hours, now only takes me a few minutes. It's amazing!"
"The assistance when we migrated from Gusto was really, really good."