Today, we're opening Rippling (and our benefits administration software) to every employee benefits broker in the country, so they can go head-to-head against digital brokers — and win.
For the first time ever, brokers — and their clients — can work together in one integrated, modern HR and BenAdmin system that can successfully compete with the new wave of digital brokers, like Gusto and Namely.
No more duct-taping disconnected BenAdmin systems (like EaseCentral, Employee Navigator, and Bswift) together with legacy HR systems (like ADP, Paychex, and Paylocity) to meet their clients needs.
No more forcing businesses to leave their current broker for a digital broker, just so they can use modern, all-in-one HR software.
With Rippling, you and your clients can get the best of both worlds: our modern all-in-one HR and IT software and your high-touch service.
How Rippling is changing the game for brokers
Many of the top 20 national firms, as well as smaller brokers across the country, are already using Rippling to:
Win business from digital brokers, and protect groups from churn. Whether you're trying to pull groups off Gusto and Namely who've outgrown the digital broker model, or you're trying to protect your own book of business, we can help. When we partner with a traditional broker to compete against digital broker platforms, we have a 75% success rate.
Switch groups off PEOs. We make it incredibly effortless to move groups off PEOs--all you have to do is get quotes. We can implement an entire company of several hundred people in a few weeks, including setting up and kicking off open enrollment.
Keep groups happy, by recommending better tech ahead of renewal. By proactively referring Rippling to your customers ahead of open enrollment, we can help solve real efficiency problems for your customers. We provide 1x1 product demos for your clients, and work closely with you to present a united front.
Automate carrier fullfillment and reduce OpEx costs. We have a dedicated partner team that handles end-to-end implementations for all mutual clients. Once up and running, we can handle all carrier fulfillment for new hires, terminations, QLEs, and demographic changes.
What makes Rippling different from other all-in-one HR Platforms and BenAdmin systems?
Rippling takes benefits management one step further
Your clients can get all the benefits (pun intended) of working with a powerful all-in-one HR system, while still getting the traditional broker experience throughout the year and at renewal time, including:
Online quoting and enrollment – for new groups, renewals, hires, terms, and QLEs
Automatic carrier fulfillment for small groups and large groups*
Automatic sync between payroll and benefits deductions
Automatic COBRA administration, from notice delivery to payment collection
Automatic administration for HSA, FSA, and Commuter Benefits
Automatic ACA, Section 125 (POP), SPDs, and ERISA compliance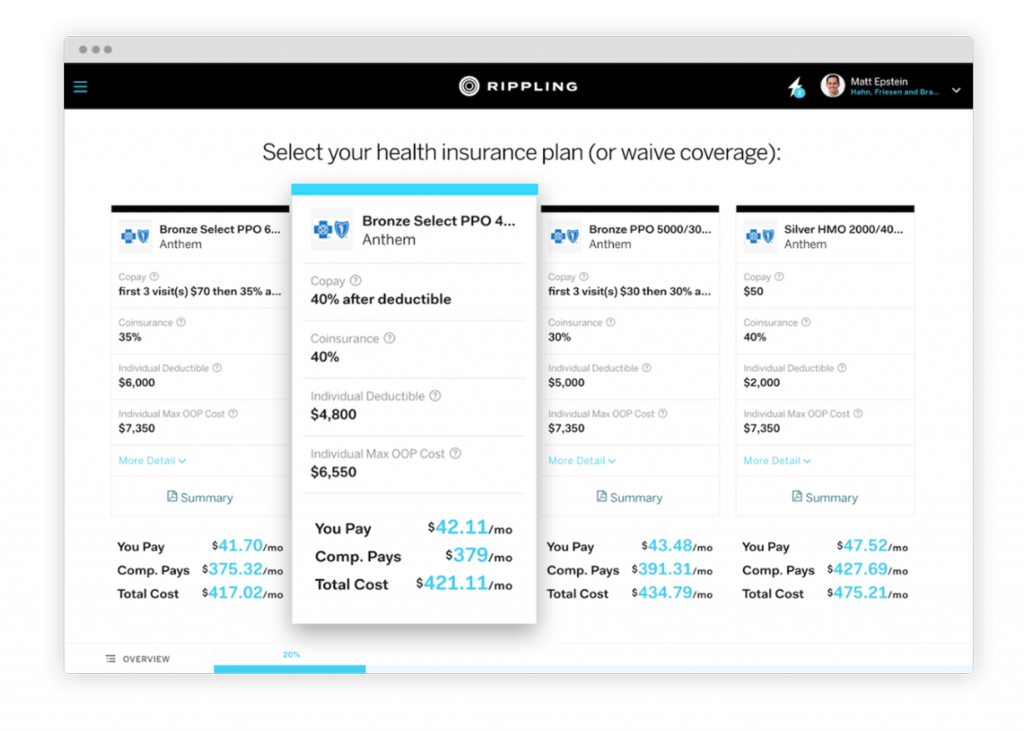 Rippling can scale with your clients, from 2 to 1,000 employees
Most BenAdmin platforms are built specifically for brokers and offer a wide range of functionality, but they often lack the sleek and modern UI that companies and their employees love. With Rippling you don't have to compromise — we're the first platform to offer all the feature functionality brokers need with the design to make your customers and their employees excited about the software their broker brought to the table.
Support any contribution scheme imaginable
Complex support for voluntary life insurance, including EOI forms
Worksite Benefits like Accident, Critical Illness, and Hospital Indemnity
Customizable email communications and event management
Complex workflows, approvals, and audits
Rippling can also compete feature-to-feature with robust platforms like ADP Workforce, BambooHR, and Ease so your clients won't have to switch systems as they grow from startup to medium-sized businesses. Rippling can fully support employees and contractors, in all 50 states and internationally — customers only need one system for a global workforce.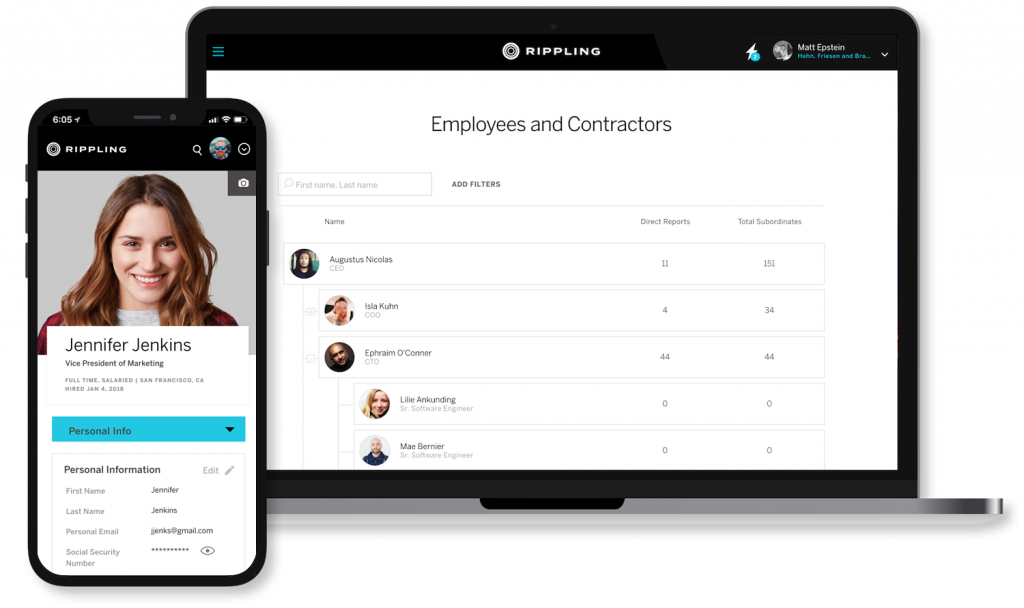 Manage all your clients in a single dashboard
Whether you have dozens of clients or hundreds, you can manage all of them in a single place.
Add collaborators in your firm who only have access to the clients they manage
Manage tasks around enrollment processing and confirmation
Search and filter for specific events like new hires, terminations, or QLEs
Manage client billing if you choose to cover the cost for specific products
Get updates and alerts about open enrollment and other important upcoming events
Rippling goes beyond HR, and helps companies streamline their IT, too
Rippling is the world's first way for businesses to manage their HR and IT — from their employee's payroll and benefits, to their computers and apps — all in one, integrated system.
In just 90-seconds, a company can set up (or disable) an employee's payroll, health insurance, work computer, and access to third-party apps like Gmail, Microsoft Office, Slack, and Salesforce. And, when a company updates an employee's department, for example, that update instantly cascades across all of those same systems. It's a huge time saver for you and your clients. You'll find that for many of your clients today, the same folks you have relationships with across HR and Finance are responsible for managing the IT admin work in their company as well.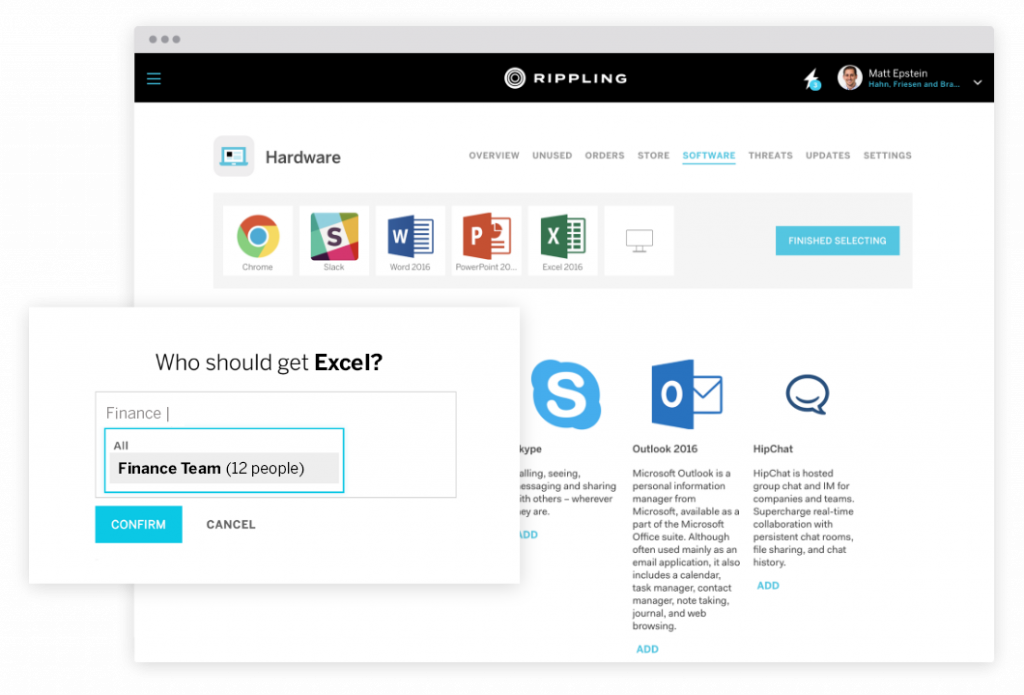 Introducing The Rippling Broker Program
Our new Broker Partner Program makes it easy for you to work with us.
No fancy certification programs, no exclusivity, no rev share partnerships. Just the idea that our mutual customers should get to choose the best technology solution for their business, and not be forced into a broker relationship they don't want.
Get Rippling BenAdmin included if you refer an existing customer who is currently on a BenAdmin system to Rippling by October 31st. After October 31st, you and your clients can get 50% off our BenAdmin system, and 10% off all other Rippling software, from payroll to app provisioning.
Automatically process your enrollments for new hires, terms, and QLEs*
Access to Client Command Center. A single dashboard to manage all of your clients, built from the ground up just for brokers.
Receive live 1:1 Training and dedicated support.
If you're interested, we'd love to talk. Simply request a demo here and a member of our Broker Partner Team will schedule a 1:1 introductory call.
*Only for qualified Broker Partners
last edited: May 16, 2023