Announcing Rippling: The First Employee Management System
Today, we're launching a best-in-class, all-in-one HRIS, payroll, and benefits system. But Rippling itself isn't just an HR system. It's a level deeper in the stack—a system for employee information that connects to all your key business systems and automates manual processes across the entire company, not just HR.
We call it an "Employee Management System" rather than an HRIS, because it's not just for HR.
It may seem unusual to combine HR and IT into one system. But we think this is the future for these software categories because both the HR and IT departments are fundamentally concerned with who your employees are and what their roles are in your company.
HR + IT: The future of work.
IT manages employees' access to business systems: who should get access to what and what policies or configurations should apply. This is the foundation of IT security and the cornerstone of IT professionals' day-to-day work. But this is ultimately about who your employees are and what their role is in your company.
HR owns the systems that track employee information such as roles, departments, managers, titles, compensation, and so on.
By creating an Employee Management System that sits underneath both HR and IT, Rippling gives you one place to manage all your key business systems, automate manual work, and save time.
For example, with Rippling:
You don't have to manually add new hires to an email list—you can specify that "all support reps" should be added to support@company.com.
You don't have to manually install Excel on employees' computers—you can say that "everyone in Finance" gets this automatically.
You don't have to create user accounts in Salesforce when a sales rep joins your company—you just tell Rippling that "all sales reps" get Salesforce
Then, when anything changes about an employee, all of your downstream business systems update as well.
Here are a few neat features that make Rippling unique, and which are launching today:
Full US Payroll and Internationalization:
Rippling has payroll built-in across all 50 states—so you can pay your employees anywhere. We handle all of your federal, state, and local taxes. Automatically.
Rippling is also fully internationalized to support your non-US work locations—including local currencies, address formats, and tax IDs.
With Rippling, you can pay international contractors anywhere in the world. If you have a consultant working for your company outside the US, you can set them up in Rippling and pay them as part of a regular pay run along with all your U.S. employees.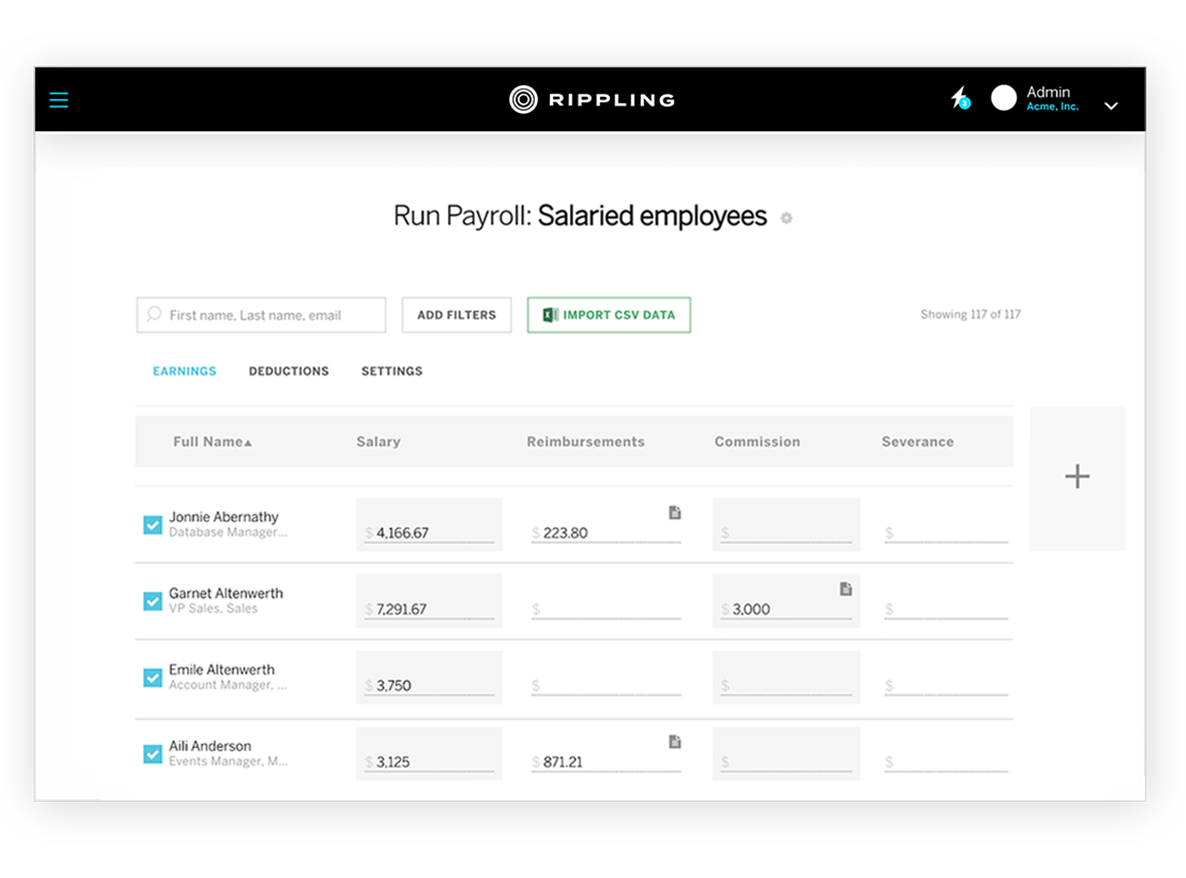 The single best HR reporting system for businesses with up to 1,000 employees:
Rippling's Reports system has all the standard canned reports that HR and finance expect—employee tenure reports, headcount reports, change logs, payroll journals, and more. But you can also create any custom extract you want from Rippling's system:
Look at point-in-time reports to see everything in the system as it existed in the past.
Filter Reports by department, work location, start date, employment type, and more.
Pivot tables: group or aggregate data by department, work location, and more.
Share live Reports with others in your company instead of emailing static CSVs (although you can download CSVs, too).
Go beyond "standard" HR Data with Custom Fields: You can create custom fields for any information you want to track about employees, like a license #.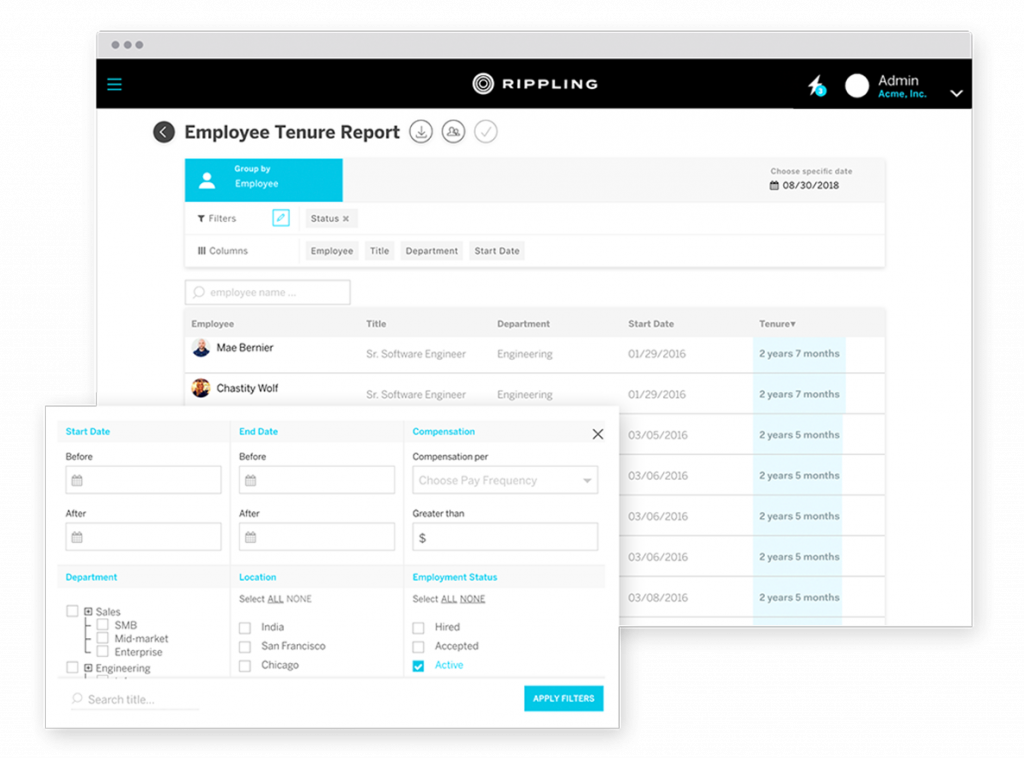 Order, configure, and remotely manage employee computers in just a few clicks:
As we've previously announced, Rippling offers easy-to-deploy computer management.
Every time you hire an employee, Rippling can ship out their computer—pre-configured with the right software installed, the hard drive encrypted, and all of your password and security policies enforced.
You can set up Rippling Hardware Management for your existing computers too (you don't have to buy new ones). We email your employees a link to install the Rippling agent and within minutes, your devices are protected. If you can install Candy Crush, you can install Rippling Hardware Management. It's that easy.
Going forward, Rippling:
Monitors for viruses and malware via our partnership with Cylance
Installs OS updates automatically to make sure everyone's using the latest, most secure version
Cuts off employee access to the computer when they leave, and automatically wipes and re-configures it for your next hire
Gives you one view of all the computers in your company and allows you to remotely reset passwords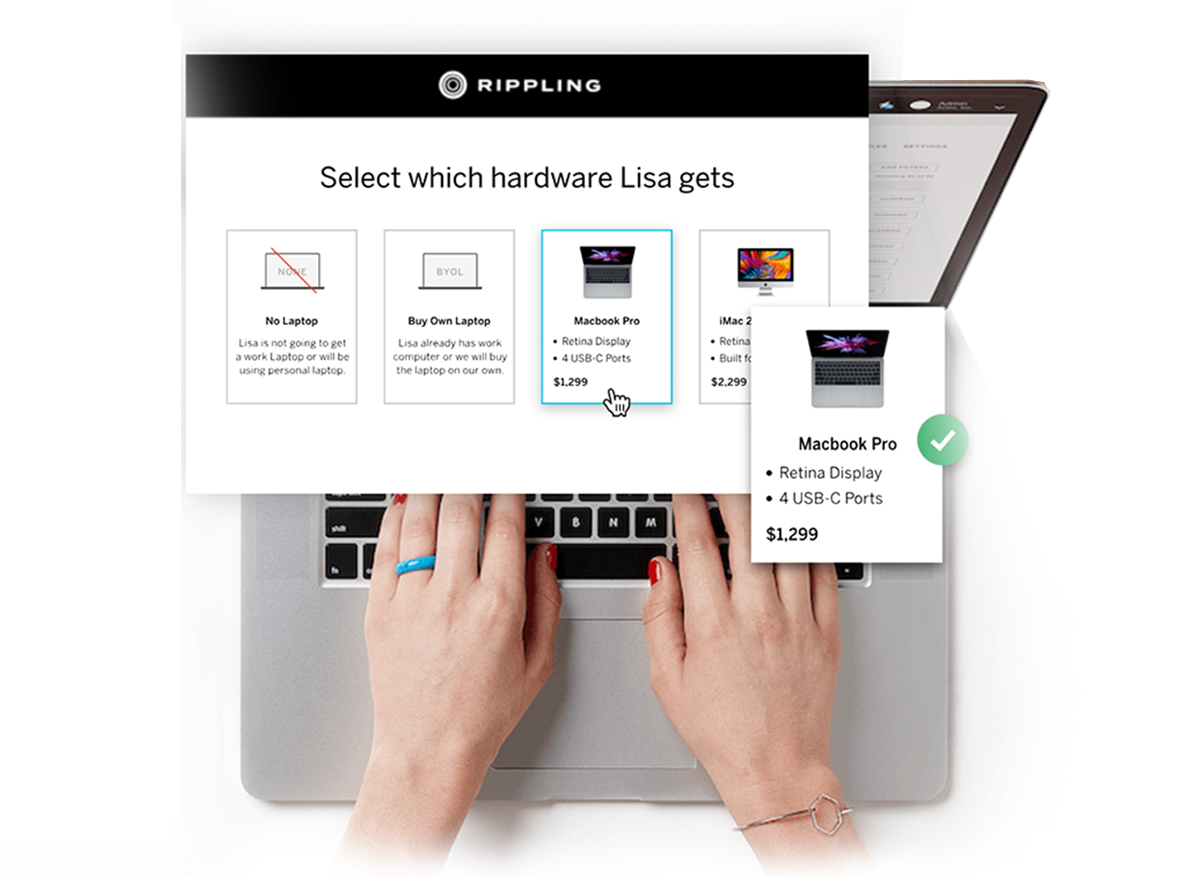 Benefits administration built-in:
You can now manage your benefits directly inside of Rippling, including:
Medical, Dental, Vision Insurance
HSA and FSA
401K
Workers' Comp
Commuter Benefits
Paid Time Off
ACA
COBRA
One big difference with Rippling's benefits software: you don't have to leave your broker.
If you're working with a traditional insurance broker that you like, you can continue working with them—but still manage employee enrollments, deductions, and changes in Rippling's online system, which is fully integrated with new hire onboarding, offboarding, and payroll.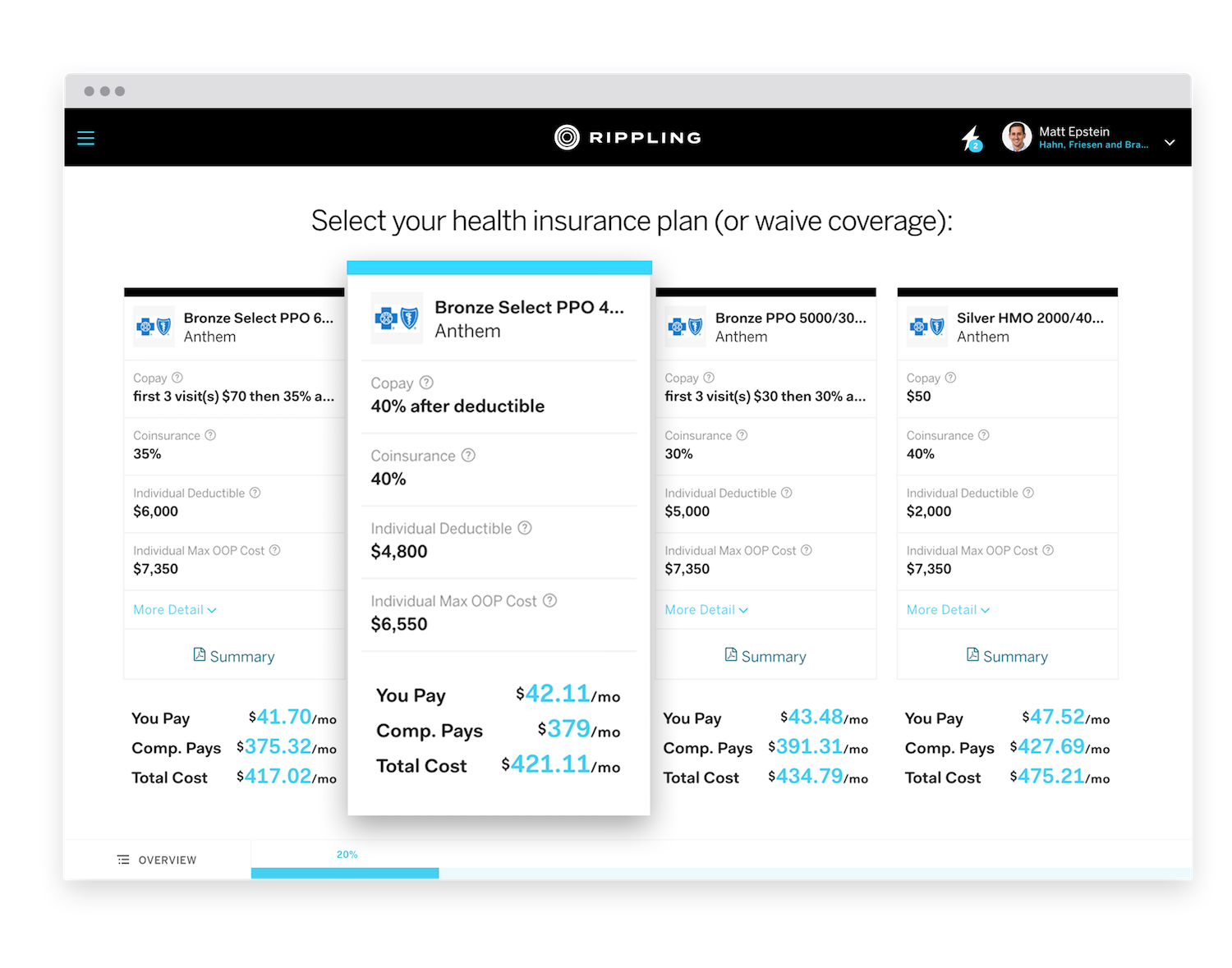 We're building the future of work. See it for yourself.
Schedule a demo here to see why businesses all across the country are leaving their traditional HR and payroll providers for Rippling—the first Employee Management System that combines HR, IT and Operations.
last edited: July 18, 2023