It's no secret that distributed workforces are becoming the norm for many industries. Less obvious is how that change affects IT operations—specifically, the management of physical devices like laptops and monitors. While many IT functions can be managed remotely, unexpected complexities arise from having to physically manage a fleet of devices when your employees are working from, literally, anywhere.
When everyone is working in the same office, it's easy to give new hires their laptop and get employees' computers back after they leave. Distributed teams, though, are another story.
If you're the person responsible for managing remote employee devices, then your life probably looks very different. You're constantly boxing and shipping computers or trying to get the departing employee to ship their laptop back asap. Your living room is full of computers because you're remote and have no way of storing them in the office. Meanwhile, the new employee is starting in 2 days but the laptop you've ordered for them is on backorder because of an inventory shortage.
This is where Rippling Inventory Management comes into play. It's the world's first cloud IT closet. It's a simple solution that allows businesses to retrieve, store, ship, set up, and manage employees devices'—100% remotely. We built this solution to free everyone up from busywork and eliminate messy IT closets entirely.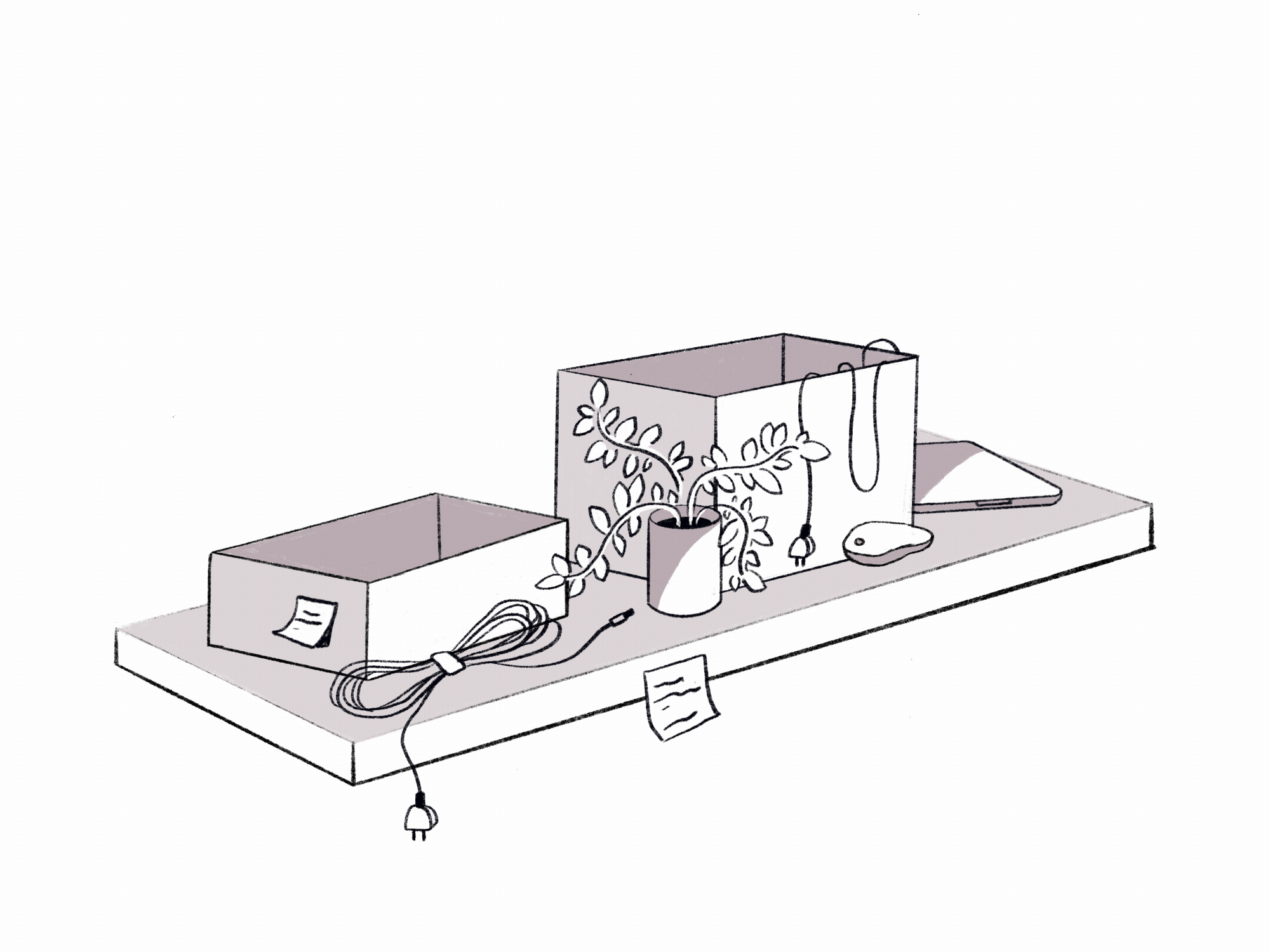 Here's how it works
Retrieve remote employees' devices—100% hassle-free
Let's imagine you're offboarding a remote employee. Think about all the steps you would take to retrieve their device. You find a box, ship it to the employee, ask them to ship the device back ("Quickly, please!"), receive it, assess the condition, and store it until it gets reassigned to a new hire. Whew!
Then you have to do it all over again when the next employee offboards.
Or you can choose to let Rippling manage that process for you. When you offboard an employee, we'll automatically send them a return box with a prepaid shipping label. You can track the status of their return, too—right in Rippling.
Retrieving and reassigning devices:
Exchange 10 emails with departing employee to coordinate device return
Employee finds a shipment box, packs up the device
Figure out how to reimburse the employee for the shipment
Track shipment on the FedEx website once employee ships the box
Unpack the package and manually assess device condition upon receipt
Manually wipe and lock the device
Update device status in spreadsheet
Throw it into the device pile in your IT closet
Rummage through the closet to find a device for the new hire
Set up the device for the new hire
Find a box, pack it, ship it, track it
Update device reassignment in spreadsheet
Automatically ship a return box and prepaid shipping label to employee
Have devices returned, assessed, wiped, and stored in a secure warehouse
Remotely set up and ship device to new hire without having to pack it
Kill the IT closet with a secure offsite warehouse
At Rippling, we pride ourselves on having a pretty amazing workspace, but the IT closet at our San Francisco office used to be a royal mess. When work went remote last year, that mess just moved into the home of our Employee Experience Manager.
Images are of the actual Rippling "IT closets" at our office and at the home of our Employee Experience Manager. Does your IT closet look like ours?
If you're responsible for handling laptops, you dread the moment you have to collect an offboarding employee's device and find somewhere to store it.
**WAITING ON ANIMATION WHITELIST***
Rippling Inventory Management eliminates the need for you to physically store devices. We'll store your new and used devices offsite at our secure warehouse. You can manage your company's entire inventory right from your Rippling dashboard—no matter how big your team is or where your employees are located.
Easily monitor and restock your offsite inventory
If someone asked you about the condition of all your unassigned devices, how would you get them an answer? You'd probably have to sift through all of them, turning each one on and labeling its condition with a sticky note.
That might not seem like a big deal in the abstract. But who sets aside the time to do that? It might not seem as pressing as your other work until you're scrambling to replace someone's laptop and get it to them ASAP.

Rippling can give you full visibility into your device inventory. Every time you store a device in our offsite warehouse, we physically check it for damage and tag it in Rippling. On your dashboard, you can see which devices are in stock, what each one's condition is, and more.
And if you run low on inventory, you can even order new devices right in Rippling and store them at the warehouse for those hires that accept an offer on Friday and start on Monday.
Reassign and ship your unused devices to employees
Most businesses without a fully staffed IT team lack a scalable process for device onboarding and offboarding when their organization grows or downsizes. If a new employee is starting next week or a current employee's laptop suddenly stops working, multiple people have to stop what they're doing and scramble to set up and ship a laptop.
As complex as it can be, delivering laptops on time is huge for making a positive first impression on new hires. It's also key to productivity.
We make it easy for you to reassign devices from your inventory in minutes, directly from your dashboard. As soon as you choose the device, shipping speed, and address, we take care of the rest.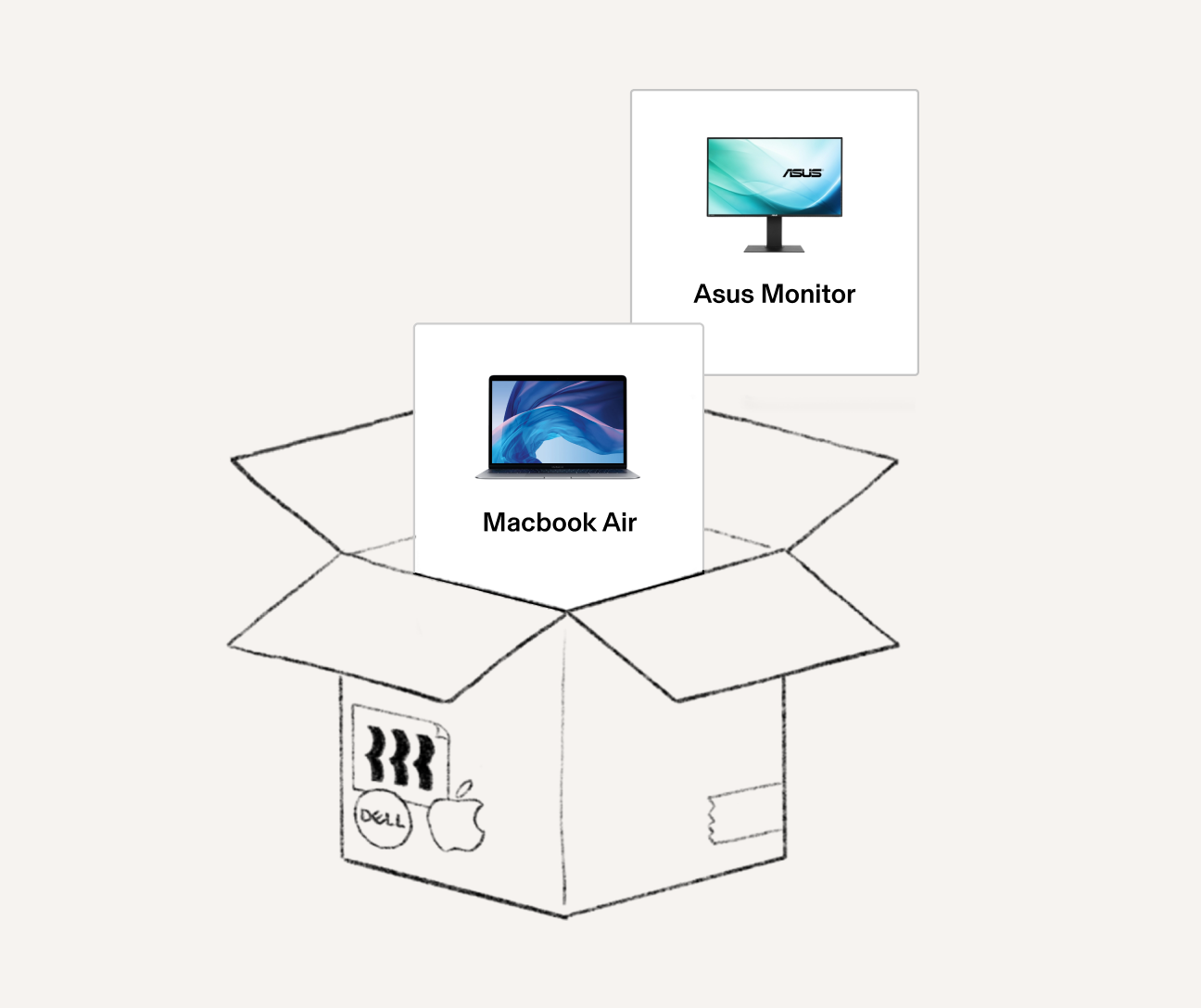 Gain 100% control of your device fleet with Rippling Inventory Management
Adjusting to the remote world presents many challenges, but managing your device inventory doesn't need to be one of them. And since Rippling Inventory Management is connected to the employee record, it's incredibly easy to assign and deliver, or unassign, retrieve, and store devices whenever you onboard and offboard employees with just a few clicks.
Interested in seeing the product in action? Schedule a demo with our team today!
last edited: April 25, 2023