Anyone who runs a business knows that a good oversight into corporate spending is a key piece of a healthy business strategy. You have to make sure that you don't spend too much or misallocate funds, but you also have to let employees make decisions about spending that will help them do their jobs more effectively.
But having a keen sense of money and priorities isn't enough—modern spend management is about maximizing value through tracking, categorizing, and analyzing spend data. To do this well, corporate credit card programs need to provide transparency into a wide variety of relevant data from multiple sources, as well as automate processes; however, an IDC study found that 61% of companies used disconnected sets of tools and processes to track spending.
These are among the many reasons we're thrilled to announce Rippling's integration with Ramp, the corporate card designed to help organizations save money through smarter spending. This integration gives employers greater control and flexibility over the way their cards are used. Now customers can manage their corporate card spending through the Rippling dashboard and use the employee data customers already have within Rippling to customize their corporate card program with the right level of access and spending privileges for each team or employee.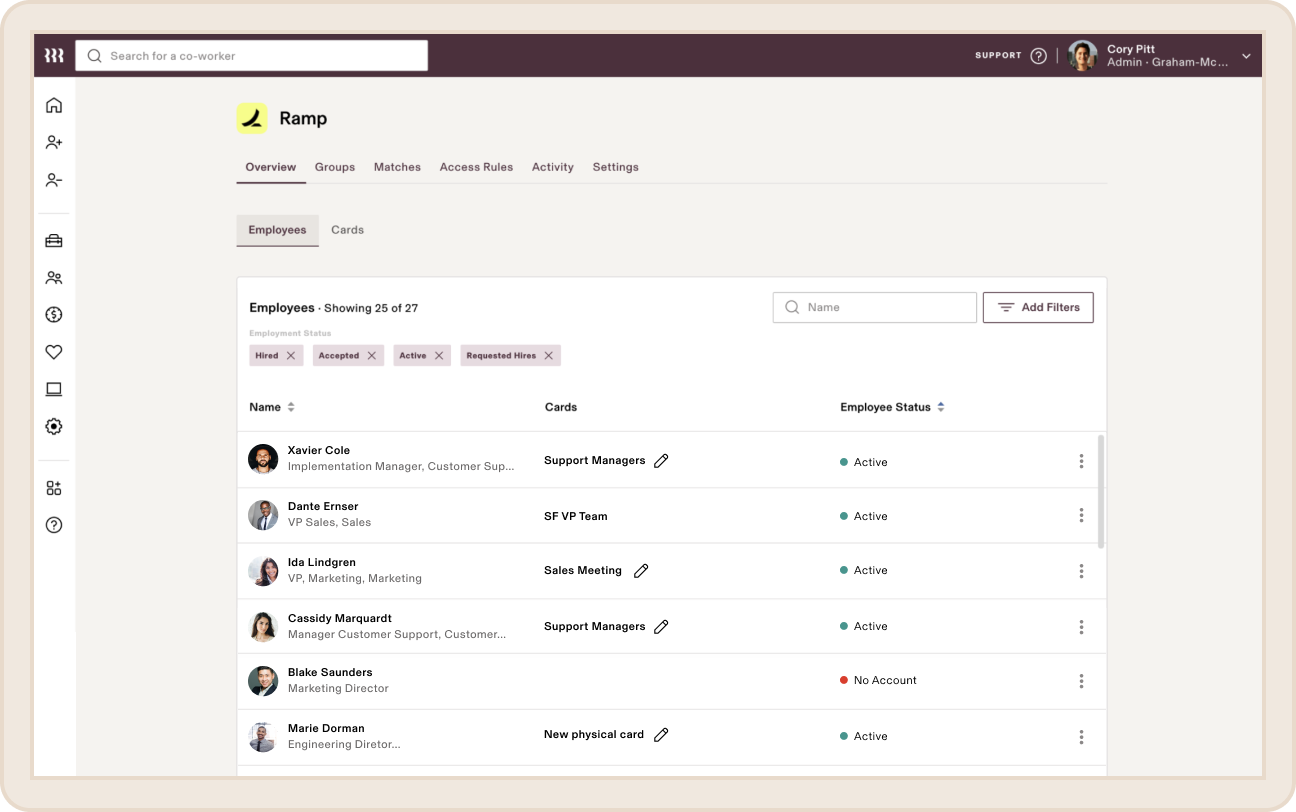 What does the Rippling + Ramp integration help you do?
Organizations need a way to quickly adapt their corporate card policies as their organization grows or as they make changes in their departments and employee roles. This integration allows you to automatically assign credit cards during onboarding and update employee spending limits whenever you make changes in their employment status. Features supported by this integration include:
Ramp Single Sign On (SSO)
Connect Ramp with Rippling so employees can access Ramp in one click. Admins can instantly log in and start issuing cards to employees.
Account creation and removal in Ramp
Easily manage card policy changes. Automatically grant or lock and terminate card access whenever you update employee status, like transfers or title changes, within the Rippling dashboard and have it dynamically apply it to Ramp approval flows.
Automatic Ramp card assignments as part of employee onboarding
Issue Ramp cards to employees as part of their onboarding workflow, and automatically assign role-based spending limits based on employee team, location, seniority, and more.
Ramp Card Programs with granular Rippling access policies
Tie your Rippling groups to Ramp Card Programs so your team can automatically issue templatized Ramp Cards to your employees based on attributes stored in Rippling. Manage spend with built-in controls like restricted category spending and pre-approved daily, monthly, and one-time limits that eliminate out-of-policy purchases.
Merchant blocking
Automatically approve or block charges for specific merchants using the Merchant Blocking feature Ramp released in July of this year. Admins can restrict spending to businesses they have preferential pricing agreements with, and protect against inflated or falsified reimbursement claims.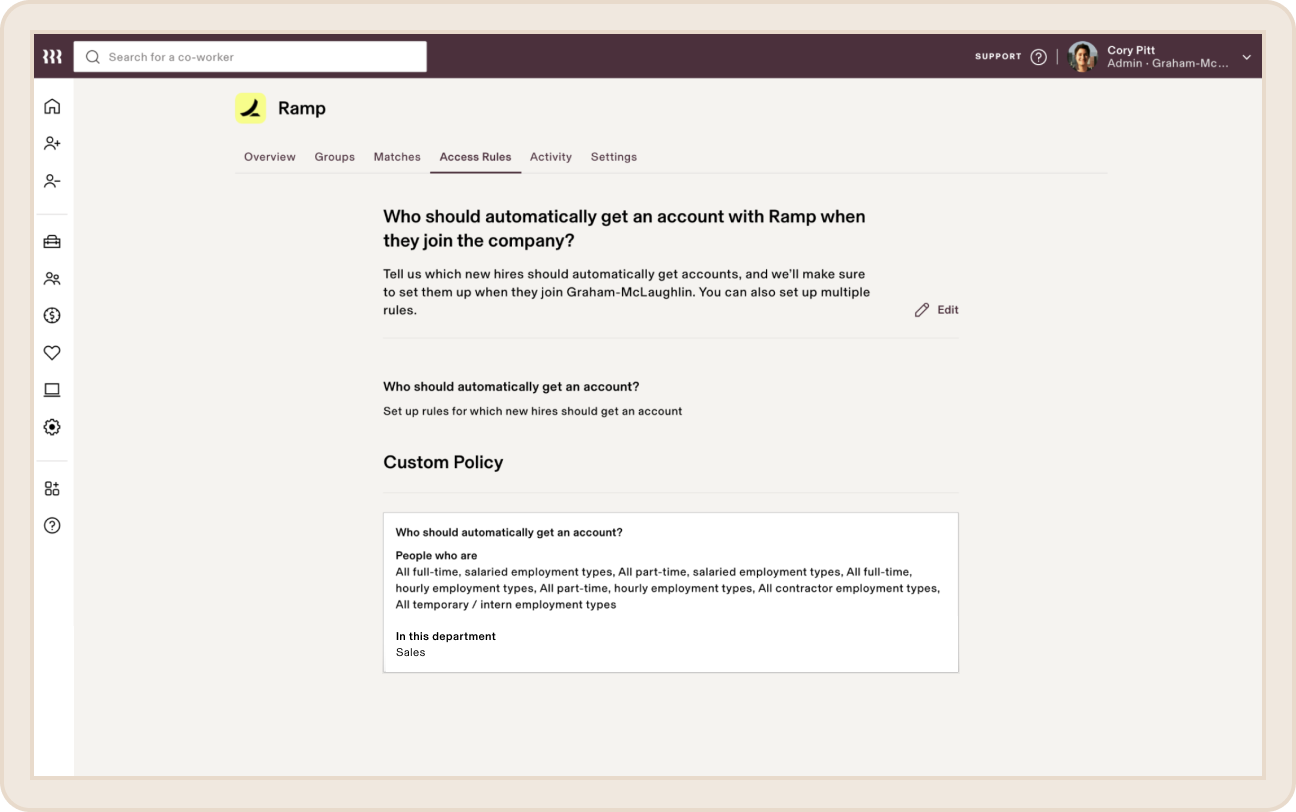 Simply put, connecting a powerful employee directory system like Rippling to a modern spend management solution like Ramp provides organizations more control of their spending strategy. Admins can automatically assign corporate cards to pre-approved groups, keep card assignments up-to-date, and manage employee spend without having to manually enforce their corporate card policies.
And employees will always have access to the appropriate budget without having to manually check on their corporate spending or spend valuable time submitting every expense for reimbursement—whether that's to support an upcoming business trip or to claim a recurring wellness stipend.
As an extra benefit, Rippling customers get a $500 bonus once they spend $1,000 on the Ramp card. Check out Ramp in the App Shop today!
last edited: May 5, 2023