Today, Rippling is launching Rippling for Accountants.
Most accountants are introduced to Rippling by their clients — their clients are running payroll through Rippling and add a 3rd party accountant or bookkeeper to help with that process.
As a result, some accountants end up with 4, 5, and in some cases 20 different Rippling accounts to manage on behalf of each of their clients. It can get cumbersome switching between different client accounts and keeping track of upcoming deadlines and payroll runs across dozens of different clients.
The Client Command Center for Accountants and Bookkeepers — One View, Every Client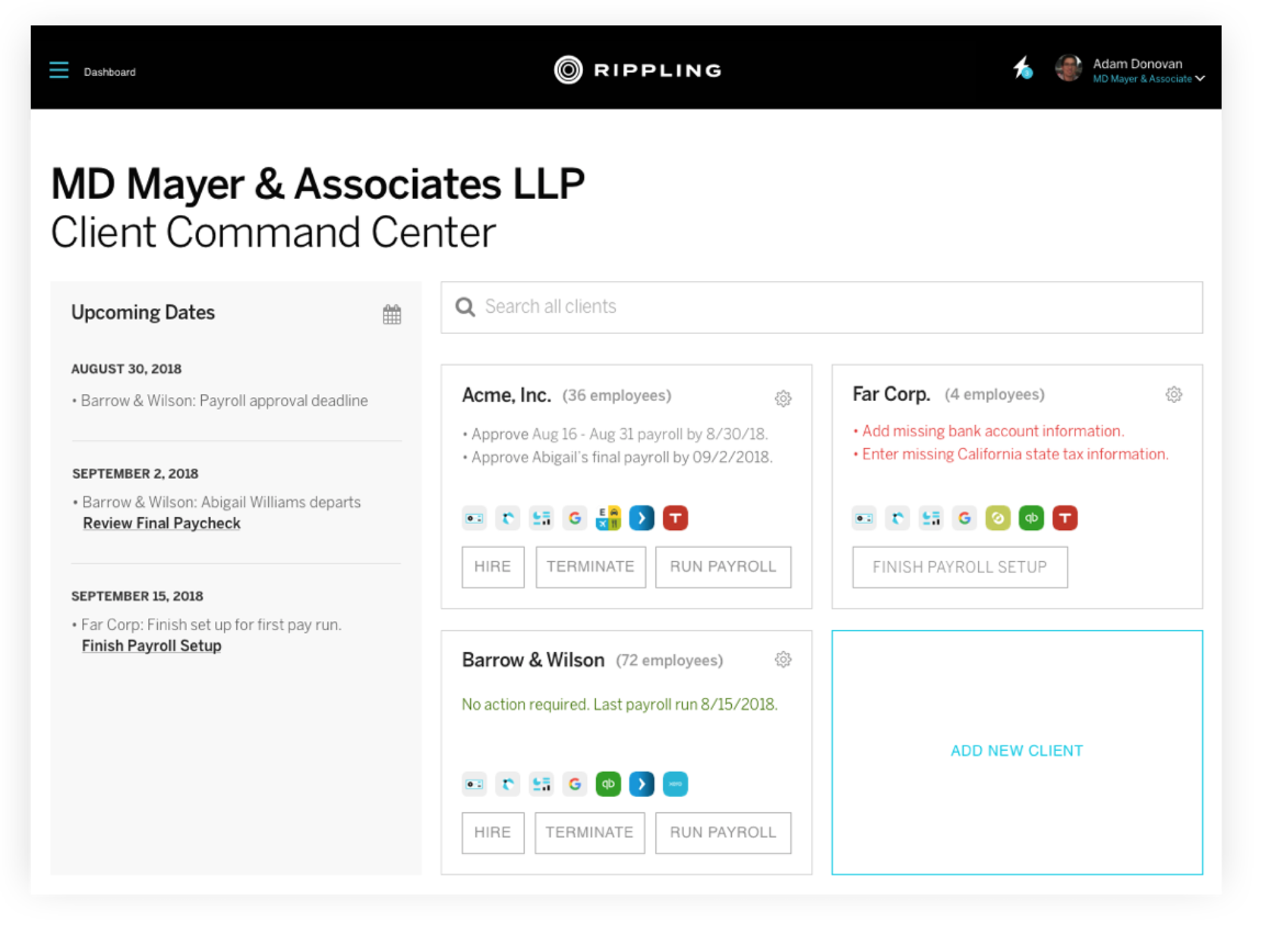 Enter Rippling's Client Command Center for accountants. The Client Command Center gives accountants one view of all their clients, in one dashboard.
You can run payroll for any client company with two clicks from this dashboard, onboard or offboard an employee, and view a consolidated calendar of upcoming payroll deadlines across all your clients.
What Rippling can do that no other payroll company can: take on your client's back office, beyond payroll
For accountants with a value-based pricing model, Rippling lets you dramatically increase the value of services you offer your clients, without spending any more time.
Rippling isn't just payroll. When you hire someone in Rippling, we set the employee up with payroll, but we also handle 100 other administrative headaches your clients already face, and which you can now take off their plate.
For example, we:
Set up the employee's access to company systems like email, Slack, Dropbox, and hundreds of others, based on their role (e.g. sales hires might automatically get access to Salesforce).
Order the employee a new computer, install the right software on it, and pre-configure the machine based on your client's settings.
Streamline bookkeeping technology at the touch of a finger by automatically adding new hires to critical systems like TSheets, Expensify, and Concur, and removing these employees when they leave the company.
Bookkeeping in the modern world is about technology curation and automation. Rippling is the first system that lets you automate your clients' entire back office -- not just payroll.
Why Rippling is a better payroll system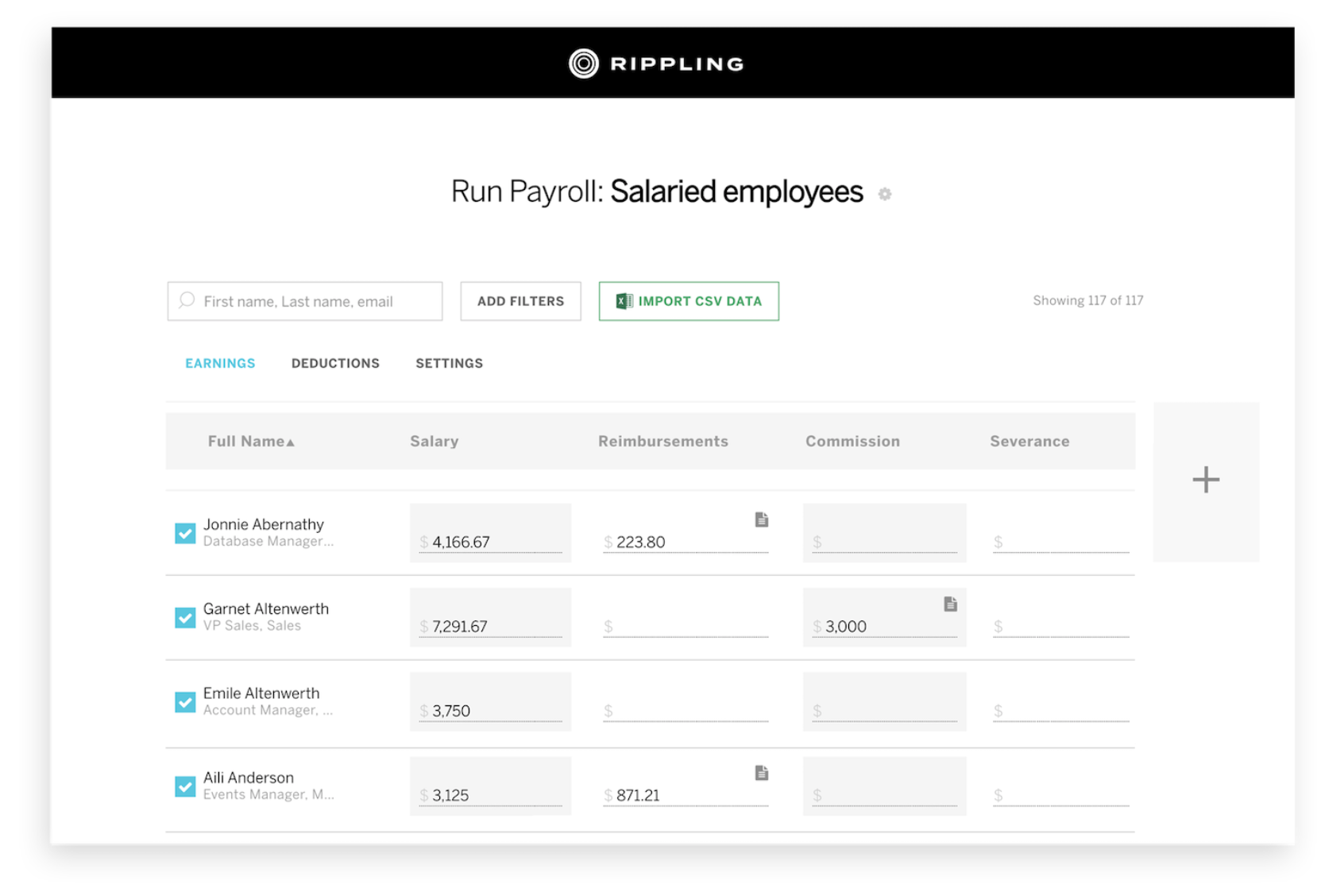 We believe payroll that's modern and delightful doesn't need to be shallow and simplistic.
Rippling payroll packs a heavy punch for advanced users, while still being simple & integrated enough that someone new to payroll can set it to auto-run and forget it. Here's a few of the standard payroll features we think are particularly useful for accountants:
Advanced reporting: Run one of our standard reports or create any custom extract imaginable from the system. Use sophisticated filters, pivot tables, and sharing to analyze your clients' business.
Accounting integrations:

Connect with Xero and Quickbooks--but also Intaact and NetSuite as your clients grow. You can finely tune how Rippling places data in your accounting system to make sure payroll data is flowing the way *you* need it to, rather than being saddled with defaults.

Pro-rated, pre-calculated everything:

New hire compensation is prorated. But so are compensation changes. Scheduling a raise for a future date, that's effective in the middle of a pay period? Yeah, we do that with the click of a button. Converting someone from exempt to hourly? That's three mouse clicks in Rippling, tops, and we handle all the transition pay runs automatically. Changing your pay schedules? We create the transition pay runs for you automatically, and pro-rate it all. The things that are time-consuming and complex in other payroll systems, are simple and everyday in Rippling.

Sub-departments:

Rather than just setting up departments in Rippling, you can set up departments within departments--and map sub-departments to different accounts and expense codes in your General Ledger system--so that you don't have to manually remap things in your accounting system.

Multiple EINs:

if your client has subsidiaries or multiple EINs, you can manage all the EINs in a single Rippling account, with a single org chart, and Rippling payroll will automatically split out payroll runs by EIN, fund those runs from separate bank accounts, and make separate tax filings for each EIN.

Contractors

are part of the same system as W2 employees in Rippling -- which means you can add 1099 contractors to recurring pay schedules, you can send them agreements to sign as you would with W2 employees, and you can convert 1099 contractors to W2 automatically (and back again) with just a few clicks in Rippling.
The Rippling Accountant Partner Program
Rippling is serious about partnering with bookkeepers and accountants to increase the value they provide for their clients beyond anything previously possible. To that end, we're launching a partner program we think is unparalleled in the industry:
Dedicated Support

. Rippling partners get a dedicated support line and VIP treatment.

Free Payroll & HR for Your Firm

. Yep, your firm gets Rippling — 100% Free.

20% Discount on Payroll & HR for Your Clients.

You can

pass along the discount, keep it as rev share, or

do a little of both!

Client Command Center

. One dashboard for all your clients.

Free, White-Glove Migrations.

Move clients from their current payroll to Rippling Payroll — without moving a finger.
See a Demo & Get Free Payroll for Your Clients for 2019
Yep, that's right. Your clients can get free payroll for all of 2019 if they sign up before Dec 31, 2018.
You can request a demo of Rippling for Accountants today, here: https://www.rippling.com/request-demo/
last edited: May 16, 2023