Software Advice
4.9 Star Rating
PC MAGAZINE
Editor's Choice
Identity Management
Mission control for all your apps
Rippling provides one unified place to set up, manage, and disable all of your employee apps, like Google Workspace, Slack, and Office 365.
Onboarding
Add new hires to every app they need, all at once, with just one click.
Employee changes
Automatically keep employees' HR data in sync with every app.
Offboarding
Disable departing employees' apps with just one click.
USER PROVISIONING SOFTWARE
Set up employees' apps when they join
Automatically add new employees to every app they need, based on role, department, and more, so they're ready to work on day one.
Add new users to Slack and Slack channels
Create new user accounts and aliases in Gmail
Give new users access to Dropbox and Dropbox folders
Deprovisioning
Disable employees' apps when they leave
When you offboard employees with Rippling, you can automatically revoke their access to all of your company's applications. You never have to remember to turn off their accounts.
SSO SOFTWARE
Give employees one-click access to their apps with single sign-on
Rippling SSO makes your whole company more productive and protected by giving employees centralized, secure, one-click access to all of their apps right from the Rippling dashboard.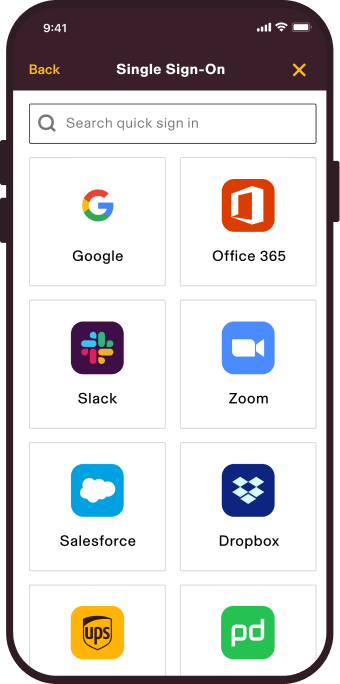 MANAGE PASSWORDS
Safely manage and share your passwords
RPass—Rippling's built-in team password manager—allows employees to securely store and share their login credentials for any app or website, as well as:
Generate strong passwords and store them
Auto-fill passwords on apps and websites
Securely share credentials and 2FA codes
Instantly disable access when offboarding
Activity stream
See who used which app, when, and where
Rippling's activity stream enables you to view employee app activity in real time, so you can easily examine:
Who granted access to which apps, and when
Who logged in to which apps, when, and where
Events by attendance, time, and location
Specific event types and actions
Product Details
The system of record for all your apps
90 seconds
Average time it takes to set up new hires in all essential apps
Onboarding app provisioning
Offboarding app deprovisioning
API, SAML, AD, & LDAP support
Whitepapers
Explore our solutions in more detail
Why our customers think we're the best