Choose the plan that's right for your business
Start with the Rippling Core Platform and add payroll, app + identity management, computers + security management and benefits administration.
Required
Rippling Core Platform
plus $35/mo base
Onboarding & Offboarding
Custom Data Fields
E-Sign Offers & Agreements
Workflow Automation
Secure Document Vault
Time-Off Tracking
Org Chart & People Directory
Enterprise-Grade Reporting
RIPPLING ADDITIONAL PACKAGES
50-State, Full-Service Payroll
New Hire Reporting
Automatic Tax filing
Time Tracking Integrations
Automatic W-2/1099 Filing
401k Integrations
Easy Contractor Payments
Garnishments
Direct Deposit or Checks
Enterprise-Grade reporting
User Account Provisioning
SOC 2 Reports
Team Password Manager
Virtual LDAP
Single Sign-On
SSH Key Management
Buy/Lease & Ship Computers
Pre-Install Software & Security
Encrypt Hard Drive
Force Patch Updates
See & Manage Inventory
Remotely Manage Computers
Re-Assign Computers
Detect Security Threats
Online Quoting
Online Enrollment/Open Enrollment
Automatic Payroll Deductions
Onboarding Integration
*Includes one time fee as part of our white-glove transition of your employee data.
Seeing is believing.
Schedule a 45-minute demo to see how Rippling can give you back your time.
SCHEDULE A DEMO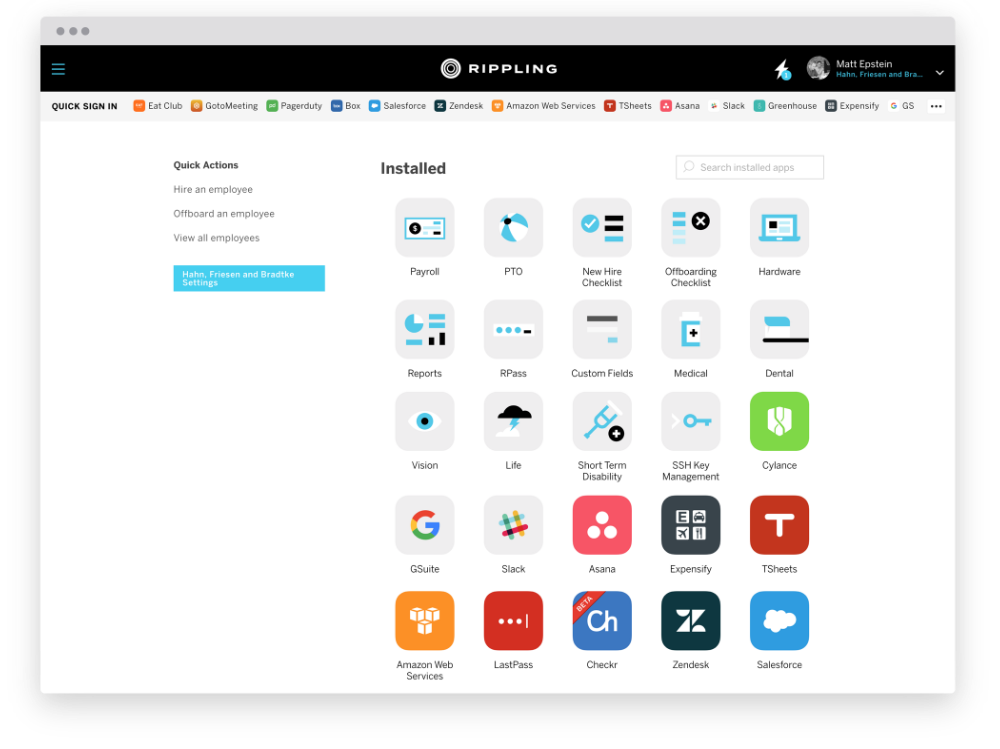 "Rippling is a one-stop shop for hiring and onboarding an employee. If you don't want to spend any time on HR and IT stuff, Rippling is for you."
– ListReports
"Rippling makes payroll and HR a breeze. New hire onboarding is so easy compared to older systems, like Paychex, that I thought I forgot to do something at first!"
– CEO, TrustyOak
"Rippling is the first employee management system I've used that truly has everything in one place, from HR to IT. Getting a new hire up and running is insanely simple now."
– CEO, Givily